About Wadatsumi Restaurant
Starting from December 4, Wadatsumi Restaurant is serving a renewed menu of traditional Japanese dishes mainly featuring "Soba and Tempura."
We had been nurturing this idea of recreating the time-honored and beloved culture of "drinking at soba restaurants" at the traditional Japanese-style structure "Maruyamacho Sancho," reminiscent of old geisha district.
Based on techniques of Japanese cuisine acquired over time, delicious appetizers prepared with savory dashi (stock), tempura dishes using ingredients in season, and soba noodles freshly made, boiled and served with dipping sauce full of umami flavors; all are paired with Japanese sake for you to enjoy.
Please taste the best in season, year-round.
Note that Sancho Hanare Wadatsumi will be open as a sushi restaurant in January.
---
Business hours during the New Year's season
-12/31/2019 (Tue)
Normal business hours


* We open 12/31/2019 (Mon)
1/1/2020 (Wed) – 1/6 (Mon)
Closed
1/7/2020 (Tue)-
Normal business hours
We are looking forward to seeing you.
Choicest Ingredients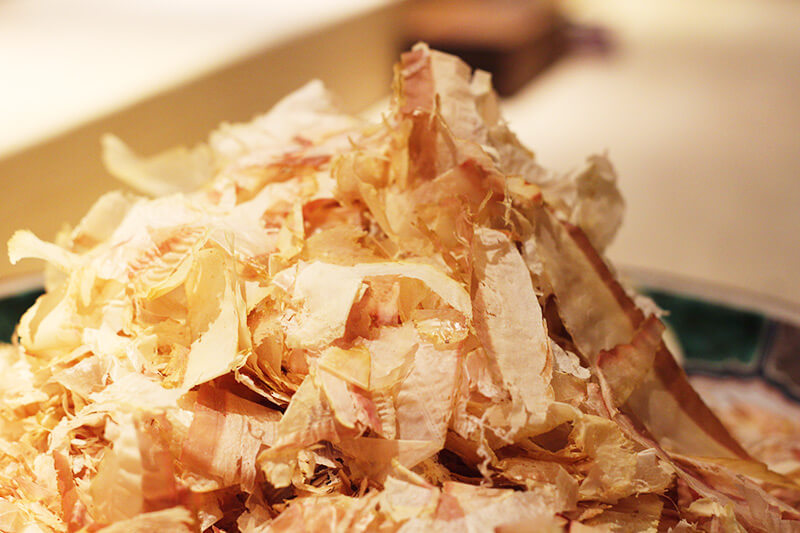 Dashi (Stock)
We spare no effort in preparing our dashi from dried bonito flakes of Makurazaki, using the technique of Japanese cuisine for this time-consuming process.
It is the soup for soba noodles with a delicate flavor characteristic of the Japanese food.
The taste makes you want more and more.
The soup for Kake Soba is simply good to the last drop.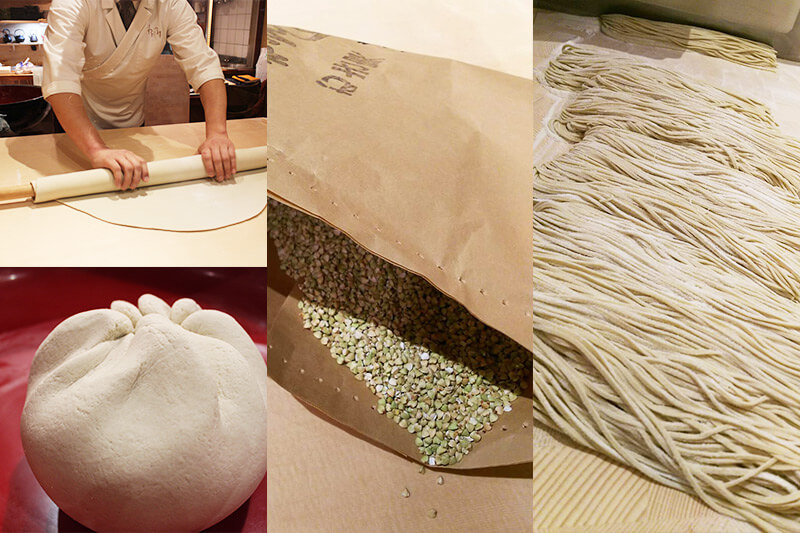 Handmade Soba Noodles
Buckwheat flour straight from the best field at the time is selected for its aroma, and for the ultimate smoothness and texture, we serve it as "Ni-hachi" (containing two parts of wheat and eight of buckwheat) soba.
You can experience the whole taste of soba noodles freshly made and boiled.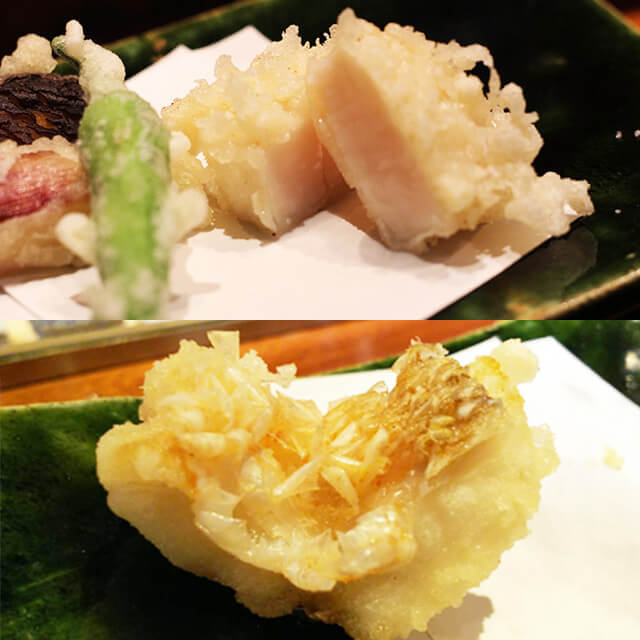 Tempura
Fresh scallops from Hokkaido, tilefish from Amakusa Ushibuka of Kyushu region, maitake mushrooms produced on logs, and other seasonal foods are deep-fried for our tempura to maximally draw out their true flavors.
Blended flying oil is light, not greasy, and carefully selected wheat flour from Hokkaido is used for the tempura batter.
You can taste the season straight from the nature.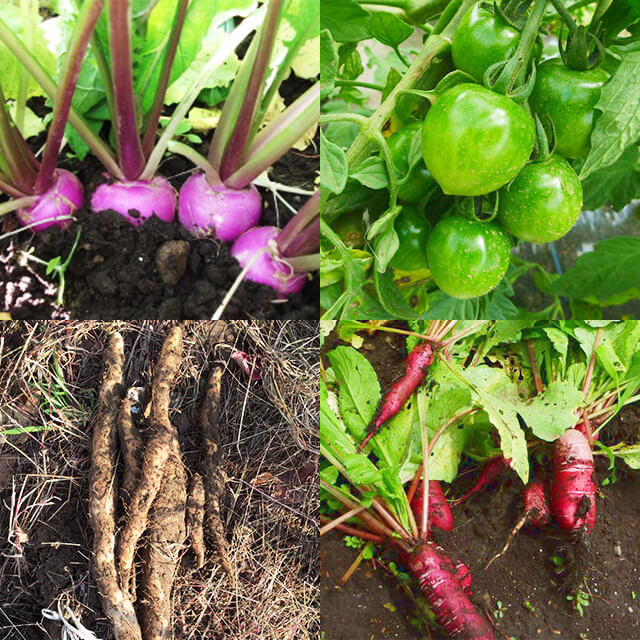 Seasonal Foods
Foods in season are delicious and also full of nutrients.
We have ingredients arriving from all over Japan for you to fully enjoy their texture, aroma, and flavor.
---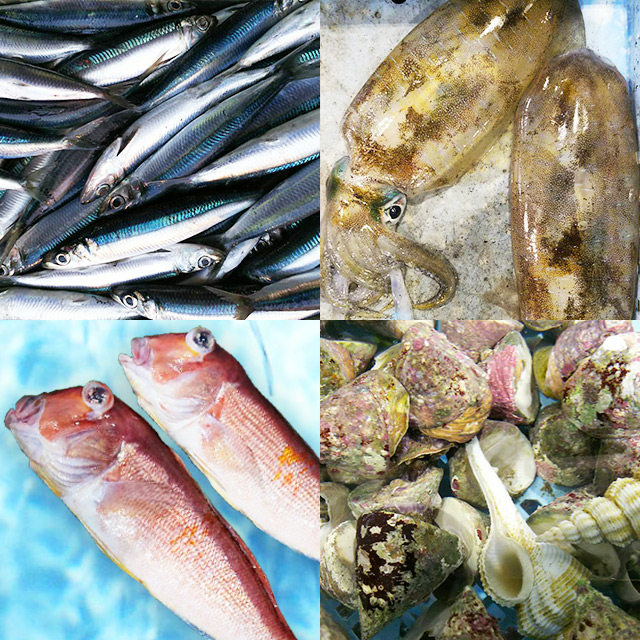 Fish from Amakusa
Fishes hauled in to Ushibuka Port, located at the south end of Amakusa, are served.
Port of Ushibuka is well-known in Kumamoto having wide varieties of fishes hauled in.
Our professional buyer residing in Ushibuka handpicks and sends us only the very best.
Freshness makes the fish even tastier.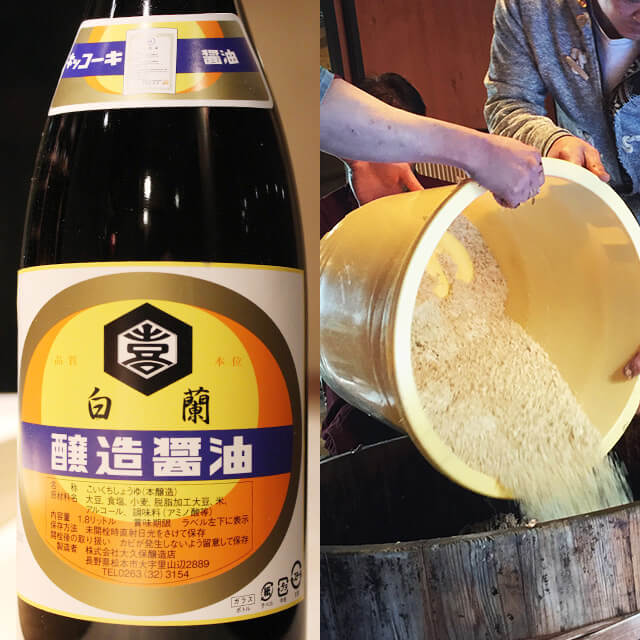 Soy Sauce/Miso
Original homemade miso paste of Wadatsumi Restaurant adds depth of flavor to any dish.
Soy sauce from Okubo Jozoten, a brewery in Nagano, only uses ingredients produced in Japan, and is manually brewed in limited quantity.
Its sophisticated flavor, color, and aroma are only made possible by brewing slowly with the utmost care.
Praised for having the clear taste, this soy sauce is a seasoning that perfectly matches any ingredient.
---
For Birthdays and Other Celebrations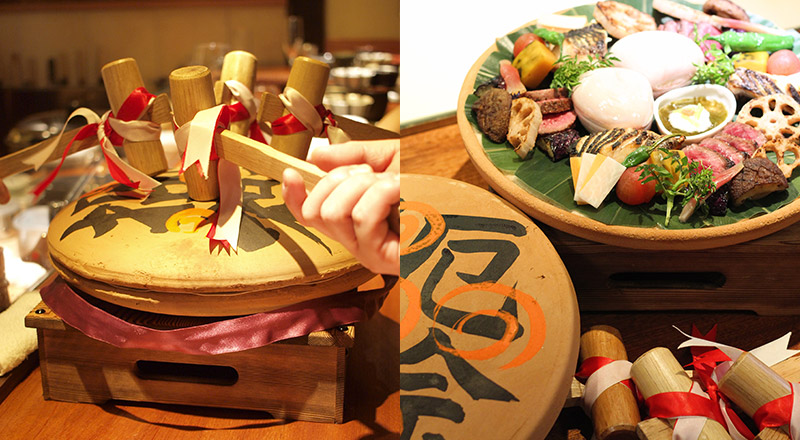 Horoku-yaki
(Seafood/Vegetables Steamed or Roasted in Clay Pot)
Horoku-yaki is a traditional dish served on the New Year and other celebratory occasions.
Using a mallet, participating guests break open the pot lid with words of celebration written on it, to make a wish or offer up a prayer of gratitude.
At Wadatsumi, you can enjoy steamed seafood and vegetables, as well as other seasonal ingredients cooked in the clay pot.
A very festive and fun event to celebrate happiness for everyone.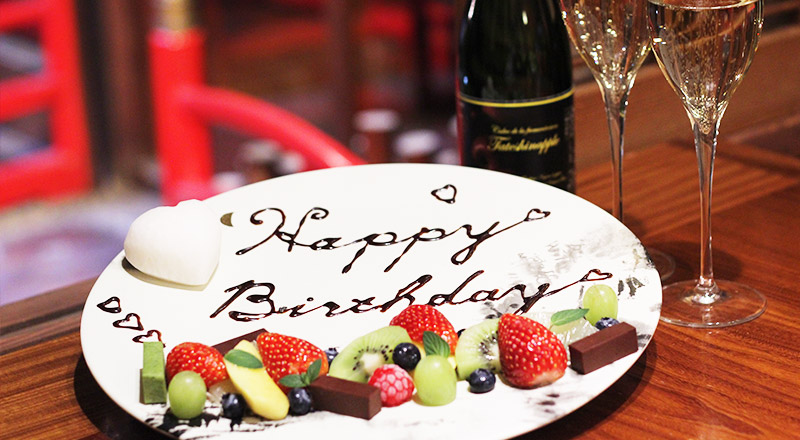 Message Plate
Your message is written on a plate with chocolate sauce, and decorated with fruits and sweets.
This plate is the most beautiful way to let your precious person know how much you care.
Restaurant / Interior
We can accommodate different seating arrangements to fit your purpose and needs. Please contact us for more information.
Chef Kenichi Sato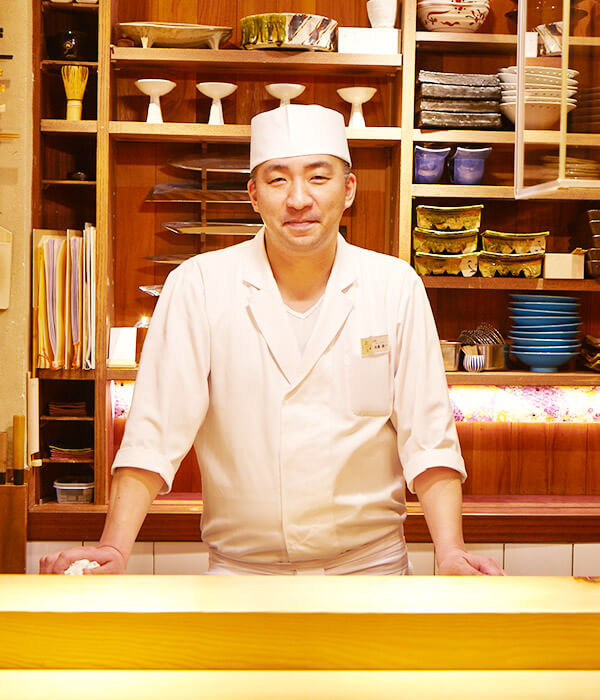 He is a chef who keeps in mind that "one's kindness of heart shows through cooking the most."
He visits the farmers and fishing ports to know the feelings of producers.
He learns the depth of flavors through rice growing, miso making and soy sauce brewing.
And from hand to hand, he puts his heart into his cooking.
His endless pursuit of ingredients and skills will continue in order to make customers "feel happy and satisfied with delicious food."
Experience
Hotel Kawakyu in Wakayama
Sous Chef, Rihga Royal Hotel in Osaka
Chef, Keyaki Kurosawa in Tokyo
Executive Chef, etc., Nagatacho Kurosawa in Tokyo
Art of soba noodle making learned from Okina Daruma, Mr. Kunihiro Takahashi.